OKSE
#Web3 Crypto Prepaid & Debit Card
Earn cash-back on every purchase *upcoming
Download the app to get started.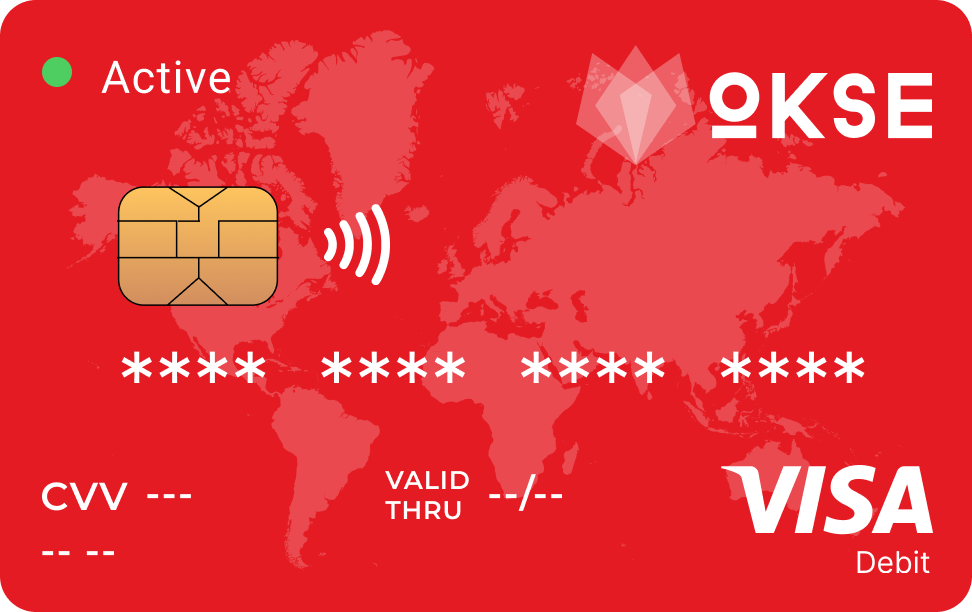 Introducing OKSE Card
A Visa card, decentralized funded. The easiest and quickest way to spend your crypto worldwide.
Spend your crypto instantly
A Visa card that makes crypto as spendable as the money in your bank but decentralized funded. Your Crypto is Your Crypto.
Globally available
Available in over 170 countries and ready to use on over 60 million visa merchants worldwide.
Keep crypto on the safe side
Decentralized and audited Fund storage (smart contract). Web3 Login and plenty more to keep your funds secure.
Select your payment network
Choose your payment currency and network. It takes just a few seconds to switch between the BNBChain and other available networks.
Track every transaction
on-chain
No hidden fees, market exchange rates and all transactions are on-chain and transparent.
OKSE Stake & Spending Limit
Stake in OKSE
0
Spending Limit
$250
Per Day
Stake in OKSE
5,000
Spending Limit
$500
Per Day
Stake in OKSE
25,000
Spending Limit
$2,500
Per Day
Stake in OKSE
50,000
Spending Limit
$5,000
Per Day
Stake in OKSE
100,000
Spending Limit
$10,000
Per Day
Stake in OKSE
250,000
Spending Limit
$50,000
Per Day
The easiest way to spend crypto worldwide
Instant transactions and payments
Track your spend through our awesome app
Easily choose which crypto you spend
Get the app today
Download the OKSE Card app to get started.
Okse Card will be available
HERE
.
We are always working to bring our services to all our users.
¹ Crypto rewards is an optional Okse offer.
² Reward rate is variable. Check your app for the most updated rate.
³ Spend limits apply. See
Terms
⁴ Okse will automatically convert all cryptocurrency to Stablecoins for use in purchases.
⁵ The Okse
Fees
⁶ Important information for opening a Card account: To help the federal government fight the funding of terrorism and money laundering activities, the USA PATRIOT Act requires all financial institutions and their third parties to obtain, verify, and record information that identifies each person who opens a Card account. What this means for you: When you open a Card account, we will ask for your name, address, date of birth, and other information that will allow us to identify you. We may also ask to see your driver's license or other identifying documents.